The 41st Manilva Flamenco Festival is a tribute to women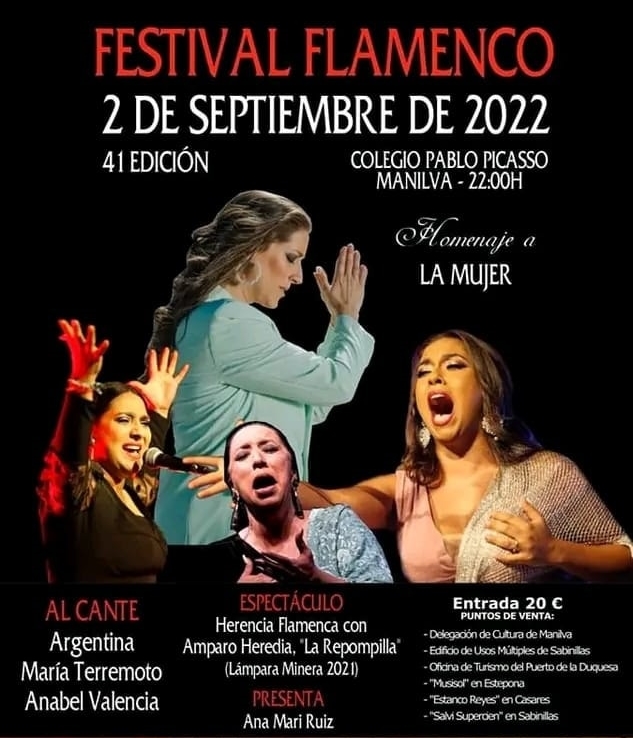 Flamenco fans can enjoy the Manilva Flamenco Festival, part of the Vendimia festivities, which returns to the Pablo Picasso School in Manilva on Friday, 2nd September from 10 pm, for what will be its 41st edition, and on this occasion it will pay tribute to women.
Organized by the Peña Cultural Flamenca de Manilva in collaboration with Manilva's Cultural Department, the Provincial Council and the Centre for Andalucian Studies.
This year's line-up will feature a top-notch roster of artists, with aficionados able to enjoy the art of great singers such as Argentina, María Terremoto and Anabel Valencia.
As usual there will be no lack of dancing, this time with the Herencia Flamenca show, featuring Amparo Heredia "La Repompilla", winner of the Lámpara Minera in 2021.
Tickets are available, priced 20 euros, from the Culture delegation, Usos Multiples building in Sabinillas, Tourist Office in Duquesa Port, Musisol in Estepona, Estanco Reyes in Casares and in Salvi Supercien in Sabinillas.