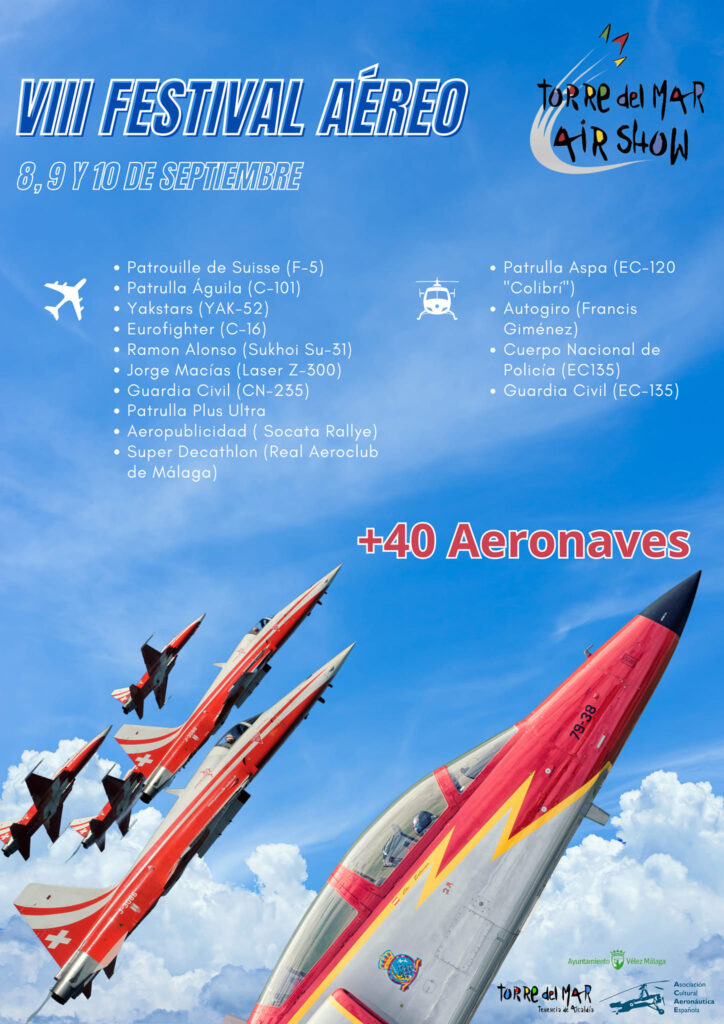 The Torre del Mar Airshow is an annual event held in Torre del Mar, Malaga. The Festival Aéreo Internacional Torre del Mar is organized by the Ayuntamiento de Vélez-Málaga.
The airshow is a combination of aviation, cultural, sports, and family activities, and attracts more than 300,000 spectators. It features the participation of some of the best aerobatic pilots in the world.
The Torre del Mar Airshow offers a thrilling experience with various aircraft performances and displays. The sky above the sandy beaches of Torre del Mar becomes the stage for aircraft of various types to showcase their skills. The event is free to attend and will be held over the weekend of the 8th, 9th and 10th of September, with the main flying day being on Sunday 10th.
The show's lineup features performers from various countries, including Belgium, Switzerland, England, Italy, Spain, and includes the Patrouille Suisse, the aerobatic display team of the Swiss Air Force, flying six Northrop F-5E Tiger II fighter/bombers, as well as the Eurofighter Typhoon multirole fighter jet. Another highlight of the show will be the Patrulla Águila, the Spanish Air Force aerobatic display team.
There are a dozen other individual and group display teams including the Police and Guardia Civil who stage simulated operations for the pleasure of the audience.
The event is best watched from the beach and is totally free but get there early to get a good spot.
For more details visit the air show website at: www.festivalaereotorredelmar.com
---
Please like/follow our Facebook page; comment, like and share the posts where appropriate as it helps keep us visible to viewers. Thank you.
Also, sign up for our Newsletter, with all the important news straight to your email inbox every week https://manilva.life/manilva-life-newsletter