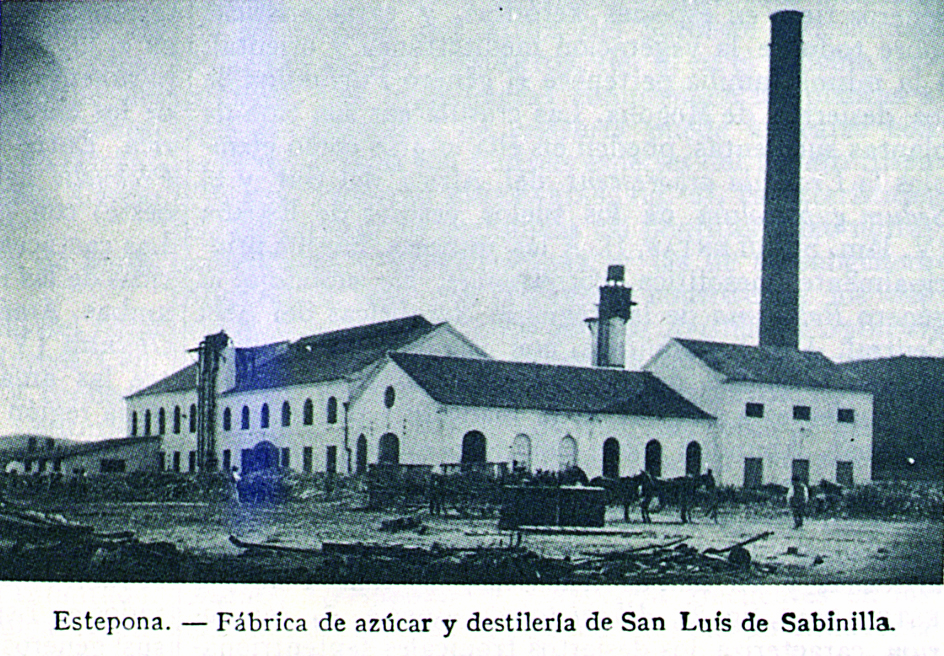 The economic boom in the Manilva area began at the end of the 19th century, when the Larios family began to buy up land on the coast of Manilva.
Taking advantage of the existence of "Trapiches" (animal powered mills to extract the juice from the sugar cane) and of "Ingenios" (hydraulically or steam driven cane grinding equipment), and of the local grown crops of sugarcane belonging to the Duke of Arcos, a modern industry was established, with "El Ingenio de San Luis de Sabinillas", being the westernmost sugar factory on the Mediterranean coast.
The architects of this industry in Manilva, in addition to the Larios family, were Sdad. Industrial y Agrícola de Guadiaro, with a massive purchase of land in the Campo de Gibraltar (Jimena, Los Barrios, Algeciras, La Línea and San Roque) and in the province of Malaga (Manilva, Gaucín and Casares), which by 1879 covered more than 12,000 Hectares (30,000 acres) cultivating, in addition to sugar cane, cereals and olive groves, and carrying out hydraulic engineering works to take advantage of the water of the region's rivers.
By the first half of the 20th century, this important industrial complex was closed due to competition from sugar beet.
It was at this time that fishing activity became the main livelihood for the population, located in San Luis de Sabinillas and El Castillo with artisanal fishing.
The nine hectares of land. that the sugar factory occupied were acquired by the bank through the Caja de Ahorros de Ronda and a children's sports and residential facility was created for the children of the bank's staff.
It is currently managed by Unicaja and open to the public, being the largest in Andalucia, with a capacity for 600 children, who enjoy a seaside holiday here every year.