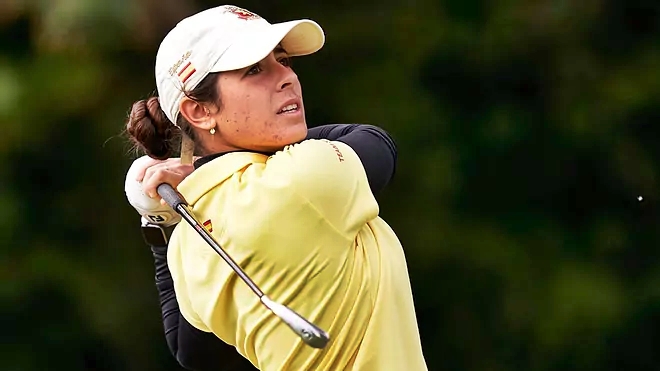 "I aspire to be number one in the world"
The new blood for Spanish women's professional golf are coming. Names like Carlota Ciganda from Navarra and Azahara Muñoz from Marbella are already noticing how a new generation is coming up by leaps and bounds. And one of her exponents is the 24-year-old Malaga-born Ana Peláez who, although still  in her first year as a professional,  has already won a European Circuit Tournament. And in Sotogrande, at La Reserva Golf, she was second in the Aramco Team Series. There, La Voz del Resident had the opportunity to chat with her.
What does she make of her progress in this first year as a professional?
In all this time I have matured as a player and I still have the same aspirations as when I went from amateur to professional. That is my challenge and why I decided to take the leap in my career. If I ever have any doubts then it will be that I was wrong, but I continue forward with my roadmap.
She said that she aspired to be number one in the world…
If we look at the numbers, I am closer to number 1 than a year ago. I have to keep going and progressing day by day. If I don't put in the constant work and effort every day I will never advance and that is a thought that doesn't enter my head.
Are you the immediate replacement for today's best golfers?
It's a question I get asked many times. Honestly, it amuses me when they say that I am the great hope of Spanish women's golf when there are players like Carlota Ciganda and Azahara Muñoz with those records in big tournaments or in the Solheim Cup. I'm still a long way from them if we look at the statistics.
Is the Aramco Team Series important to you?
The Sotogrande test will always be a special tournament for me. Because of my debut as a professional in 2021, because I hardly know this La Reserva course and because of the closeness with my people that makes me have people behind me supporting me in the games. It has been spectacular this year. Being second in a great last day and the reception of the public after handing in the card will never be forgotten.
What do you think of the format of this tournament (3 professionals and one amateur per team)?
It is the second time they have done this. It's new and fun, because you have to adapt to the rest of the team and you even get to give advice to the amateurs. It doesn't seem bad to me and from what I've heard from other players it has received more praise than criticism.
In 2023 we will celebrate the Solheim Cup (Europe v USA) at Finca Cortesin. Do you dream of being present as a player?
It's just a step away from home and this is going to be historic. The Solheim Cup in Spain and on the Costa del Sol. Hopefully I can be in the European team. But that can only be achieved with a lot of work and believing day by day in my possibilities.