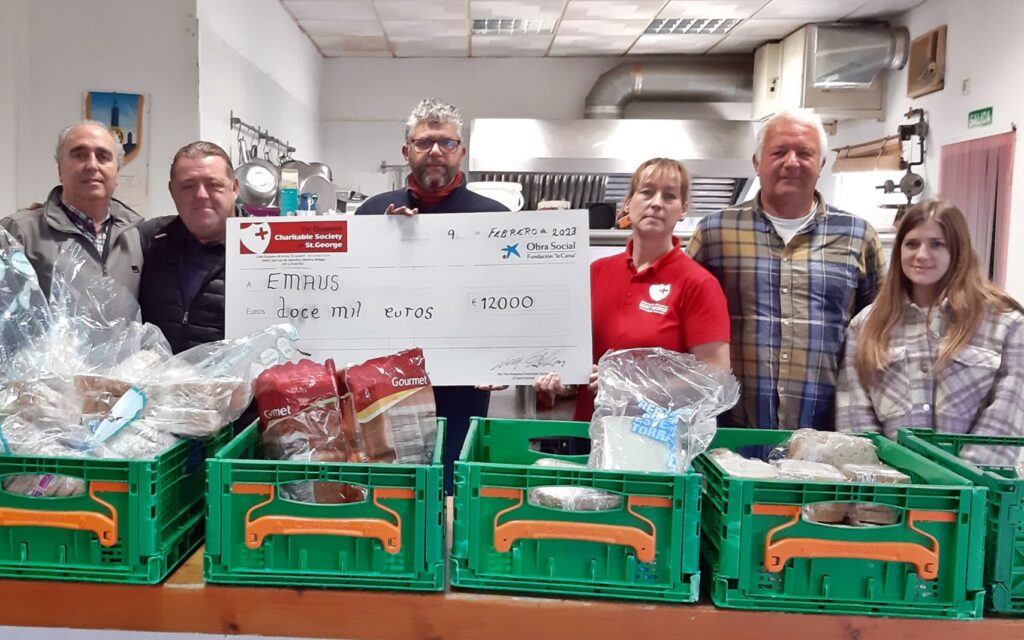 The Duquesa Charitable Society of Saint George visited the Emaus Social Kitchen in Estepona today to present a cheque for 12,000 euros to fund the charity's 'Feed a Child' campaign, providing a packed breakfast and lunch for school children of disadvantaged families.
Saint George representatives Dean Shelton, Gary Beaumont, Judith Beaumont, and Jose Manuel Fernandes, met with Ildefonso Abril Tirado, manager of Emaus, and Charo Abril Rubio, general secretary of the organisation, to present the cheque and also discuss a project, put forward by PP Manilva, for the establishment of a social kitchen in Sabinillas, Manilva.
The Saint George Charity also committed to funding the Estepona Social Kitchen's cooking gas costs, for the coming year.
The charity's recent Christmas Campaign was a great success raising some 16,000 euros which allowed us to, besides this donation deliver over 300 gift bags to Social Services in Casares, Manilva, the Emaus Social Kitchen in Estepona, and the Ukrainian association in Estepona.
The Saint George Charity also funded the 'hampers' that the Emaus Social Kitchen gives out to its 'clients' each Christmas, with a donation this year of 1,710 euros. At the same time the Charity provided Emaus with a nearly new laptop to replace the museum piece that they had been limping along with. This was made possible thanks to the donation of nearly new laptops and computers from the Cirumed Clinic in Marbella.
The Charity committee, namely: Dean Shelton, President; Gary Beaumont, Vice-President; Daniela Caballero, Treasurer; Judith Beaumont, Secretary & Shops Manager, and Jose Manuel Fernandes, Technical Advisor; would like to thank all the volunteers, supporters, donors, and customers, with particular mention going to Jojo Ruby France and Katherine Grant, for all your help and support that makes this possible year after year.