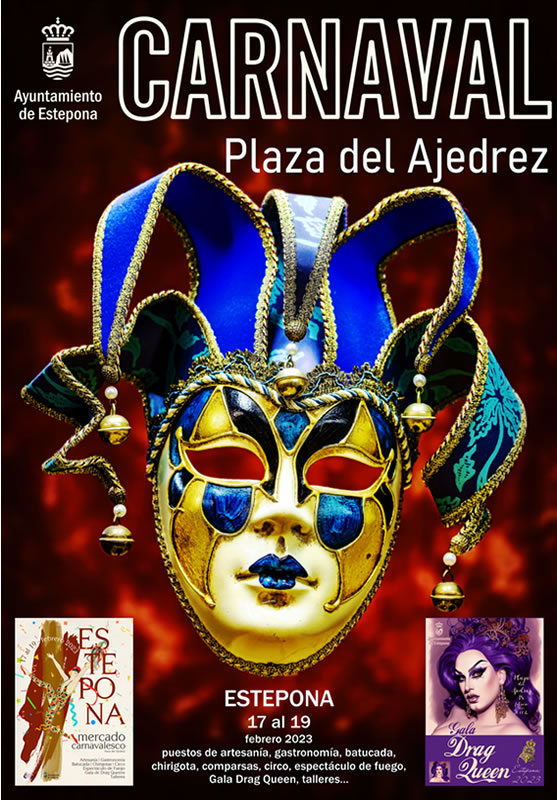 As part of this year's Estepona Carnival celebrations, which run from Friday 17th to Sunday 19th February, there will be a number of events and activities including a Carnival Market in Plaza del Ajedrez, with food and craft stalls, musical performances, circus, workshops and the first Estepona Drag Queen gala.
Programme
Friday 17th
5 pm – Official opening of the Carnival Market. Parade with stilt walkers and music, leaving from the town centre and ending up at the Plaza del Ajedrez.
6.30 pm – Batucada "Cora music". Children's mask workshop, ideal for playing and dressing up at the carnival.
7.30 pm – Clown show. V for Banana "The Clowns".
8.30 pm – "Incandescence" fire show. At the lighthouse.
Saturday 18th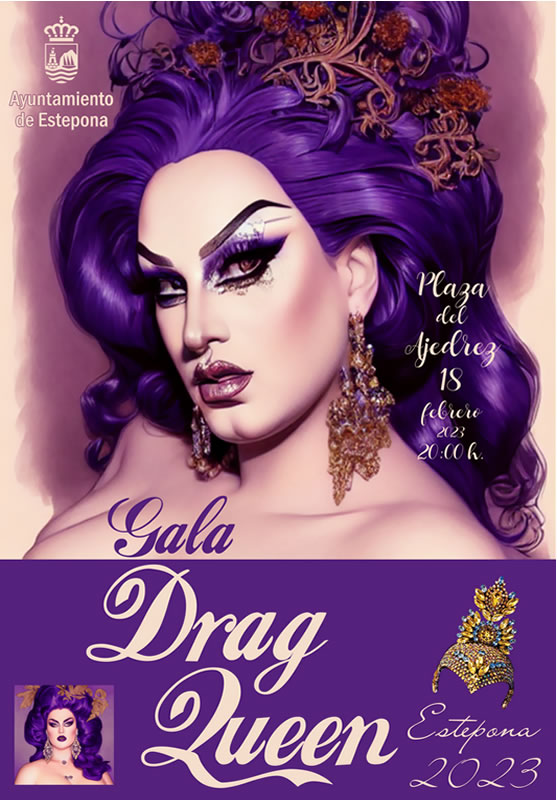 10.45 am – Opening of the Carnival Market stalls. In the Plaza del Ajedrez.
11 am – Children's Party "El Super Show De Los Punkilokis", where the youngsters can sing and dance with the Punkilokis.
12 noon – Fancy Dress Contest for the selection of Adult Nymph and Child Nymph, Momo Adult, Momo Child, Best Costume Adult (€100), Best Costume Child and Best Group Costume, (minimum of 8 participants of any age).
1 pm – Performance by Comparsas and Chirigotas comedy music groups. Featuring Comparsa from La Línea: "LA LLAMADA", Chirigota from Estepona/San Pedro "PA TÍ TÓ", Comparsa from Marbella: "LOS TESTARUDOS".
8 pm – Estepona Drag Queen Gala 2023. Competition with prizes of €1,200, €1,000 and €800, and for the 5th, 6th and 7th, second prize of €200 each.
Sunday 19th
11 am – Opening of the Carnival Market stalls. In the square of Chess.
12 noon – Circus workshop for children, where they can try various juggling and circus skills, feeling like true artists.
1.30 pm – Acrobatic fabric show. "La Pluma", with the Company 'La Galerna'.
2 pm – Acoustic concert with "Ramoncillo de la Calle". Urban musical stories.
5 pm – Magic Wands Workshop. We will make custom wands from wooden sticks.
6 pm – Balloon Modelling Workshop. A fun workshop, where we will make figures with balloons: puppies, swords, flowers, etc.
7 pm – Acrobatic Fabric Show. "The metamorphosis", with the Company 'La Galerna'.
More information about Carnival HERE