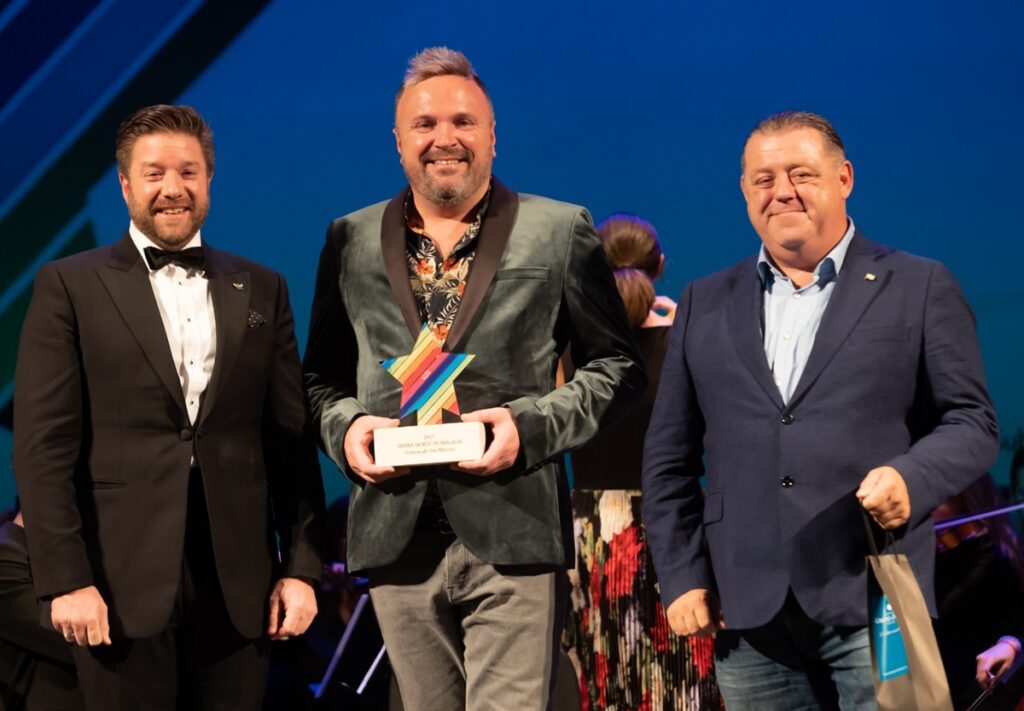 After its cancellation due to the pandemic, the LGTB Andalucía awards were finally celebrated this Thursday with a gala at the Góngora Theatre in Cordoba, at which more than thirty personalities and institutions from the worlds of culture, communication, education, business and activism received recognition for their involvement in the visibility of the difficulties that this group still faces.
Among the winners was the "Se tu Mismo" association, organizer of Manilva Pride events, which received this distinction from Edward Dunn, representing the British Embassy, who presented the award to Dean Shelton and Christian Lee Dunn, who addressed the audience, at which no representative of the Manilva Council was present.
This is the fourth edition of the initiative, organized by the association "Juntos Todos por la Igualdad" and its creator, Jesús Palomares, which was established to coincide with the tenth anniversary of the approval of Same Sex Marriage in Spain.
In an act presided over by Jesús Palomares and by the president of the "Together All for Equality Association", Conchi Sanroma, the awards were presented to all those who could not collect them from 2020 to 2021 due to restrictions caused by the pandemic, as well as those recognized this year 2022.
Also taking to the stage from the business world were representatives of Danone Spain, Diageo Spain, the Nstra cooperative. Sra del Perpetuo Socorro and Los Alcores de Carmona, for the creation of campaigns and products reflecting diversity, as well as the businessman Antonio Fernández and the businessman Kike Sarasola.
In the cultural field, the world ballroom dancing champion and winner of the first prize for Drag Queen of Seville, Daniel García; Miguel Castellano Cañete, author of the work Archangels; the Higher School of Dramatic Art in Malaga, the performers of Los Chicos de la Banda, Peter Jiménez Escobar, the first child drag queen in Spain; Miguel Ángel Olivares, Cristian Coto, Pedro Almodóvar, who participated by videoconference, and "Los Javis".
Regarding the institutional sphere, the LGTBI Platform of the Spanish Foreign Service, the Prime Minister of Luxembourg, the Swiss government, the Chilean government, Susana Díaz, for carrying out the Transsexuality Law, the Baena Regulatory Council and the Mayor of Bogotá, Claudia López. Along with these, the media outlet Atresmedia and the journalist Euprepio Pádula also received an award.
There was also recognition of the educational field, as was the case, among others, of the IES Engineer Juan de la Cierva in Puente Genil. The Reina Sofía University Hospital won the award for being the only Andalucian hospital participating in the development of a global vaccine to prevent AIDS. All this during a gala that included performances by Soleá Morente and the Got Talent pianist and performer Peter Princesa Arcoíris, without forgetting the importance of deceased activists, such as Jose Pérez Ocaña, and current ones, in the case of Manolita Chen , the first trans woman in Spain to change her sex on the DNI.