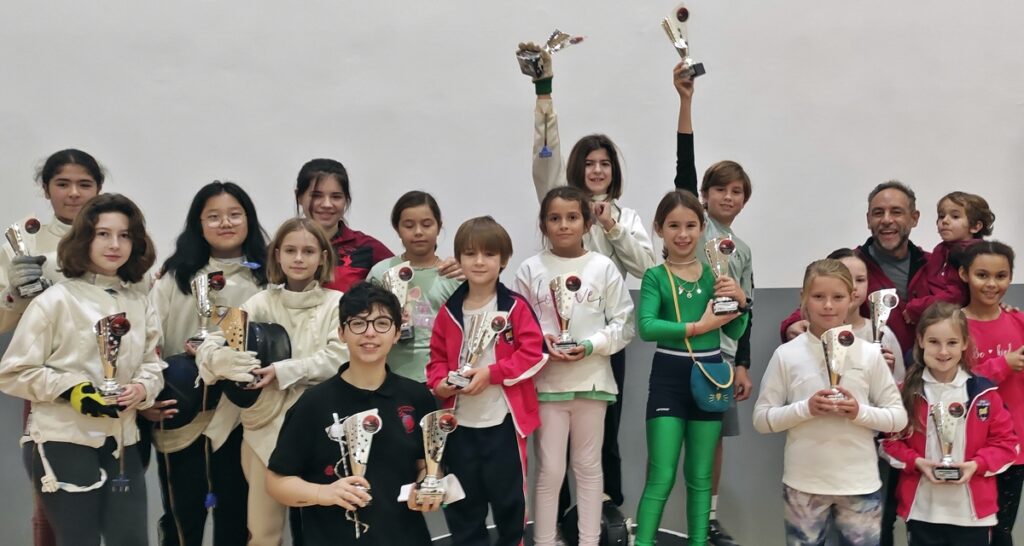 To say goodbye to the year, the International Fencing Club together with the San Roque Sports Department organised the tenth International Fencing Competition. The competition was attended by fencers from the age of four in both the female and male categories.
Fencers both young and old attended the event at the remodelled Ciudad de San Roque Sports Centre, which benefited from the warmth and enthusiasm of the participants and organisers. More than 80 athletes from the main fencing schools of the Costa del Sol and Campo de Gibraltar took part, as well as from the San Roque Sports School.
There was a huge turnout of fencers from the Sports School of San Roque whose athletes demonstrated a high technical and tactical quality. For this we thank the San Roque Council and those responsible for grassroots sports for encouraging the practice of new sports and specifically this discipline that has the beauty of dance, the aggressiveness of martial arts, the philosophy of the ancient knights and the strategy of chess.
All the participants and their families as well as the large audience that attended the competition enjoyed the magnificent display by these athletes. For some of them it was their first competition, demonstrating great competitiveness and fair play that earned them trophies, medals and commemorative awards to bid farewell to the year.
The winners in the absolute category were Rodrigo Fernández revalidating his title from the last competition in 2019, Laura Pérez and Nina Ciobanu in their respective categories who carried out some spectacular assaults recalling the old duels of yesteryear. Very good performance by Xander, Xayden, Maya, Jake, Javier, Nicolás and Fran. As well as the youngsters: Akiva, Aryauna, Álvaro, Martin, Jack, Logan, Isaac, Camille, Diego, Aidan, India, León, Lucía, Alma, Egor, Celia, Xyler, Anaya, Mary, Elsa, Alejandro, Zoe , Bea, Aingeru, Andrea, Maria, Gabriela, Eva, Yuxuan, Daniella, Mindi, Tiago, Daniel, Angeles and David. We highlight the participation of Javier Valdés and León Cerrada, the latter with only four years of age. Both in their first official competition showed great presence, style and sportsmanship.
We must thank all the collaborators of the Sports and Tourism Board and the San Roque City Council and all the members of the International Fencing Club for their dedication and hard work.
A great job by the teachers and monitors of the Club: Laura, Nina, Lara, Phil and Javier. We thank the local television, led by Vicente Crespo for following the club, the parents for their efforts in encouraging their young fencers.
The Club would like to wish everyone a magnificent 2023, former fencers and those who are approaching this wonderful art for the first time, welcome to the great family of Fencing.
For more information phone 639 359 972.