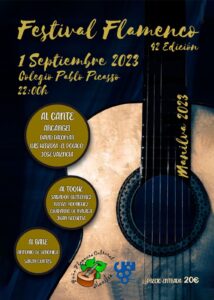 As an opener to the weekend's Manilva Vendimia grape harvest festival the local Peña Flamenca cultural association, has organised the 42nd Flamenco Festival, to be held in Pablo Picasso School in Manilva, on Friday 1st September from 10 pm.
Featuring the singers Arcaángel, David Palomar, Luis Heredia 'El Polaco', and José Valencia; musicians Salvador Gutiérrez, Rafael Rodríguez, Chaparro de Málaga, and Juan Requena; along with dancers Antonio de Verónical and Saray Cortés.
Tickets are 20 euros, available from: De Maria's fotos and Tienda Arco Iris in Sabinillas; Estanco Diego Reyes in Casares; Cafeteria Plaza and Papeleria el ingenio in Manilva; Musisol in Estepona.
---
Please like/follow our Facebook page; comment, like and share the posts where appropriate as it helps keep us visible to viewers. Thank you.
Also, sign up for our Newsletter, with all the important news straight to your email inbox every week https://manilva.life/manilva-life-newsletter