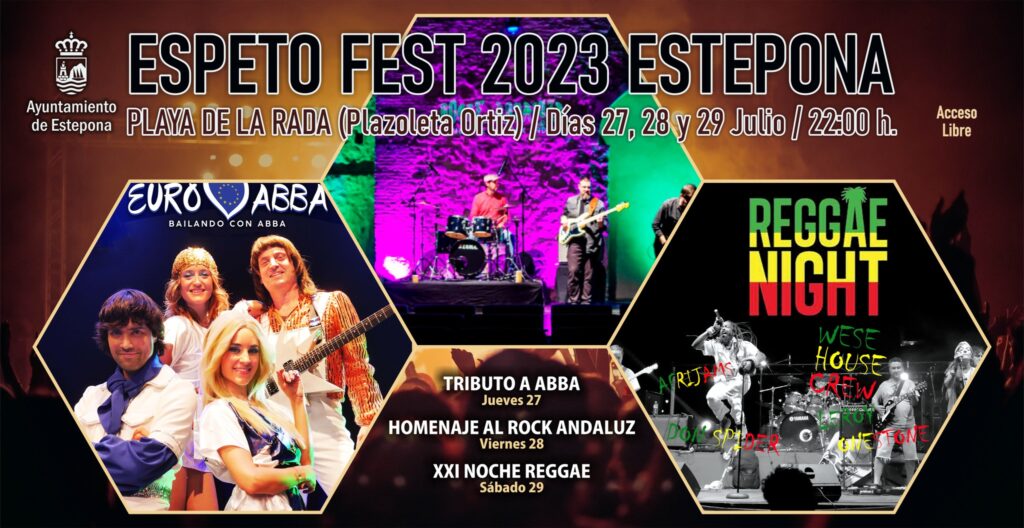 The three night Espeto Fest festival of music will be held at the Plazoleta Ortiz, opposite Estepona's La Rada Beach, from Thursday, 27th to Saturday, 29th July, from 10 pm.
Entry is free.
Thursday, 27th – ABBA Tribute
Enjoy the music of ABBA as performed by "EuroAbba – Dancing with Abba"
travel back in time to experience the sensation of being at a concert by the Swedish band. The incredible resemblance of the performers with the original members of the group, the costume changes, the voices, It all adds up to an unforgettable experience. Raúl Gama, Beatriz Fernández, Lara Chaves, Pedro Palomar, Roberto Damicis and Fabbio Alonso are the artists who will bring Abba back to the stage. 'Waterloo', 'Dancing Queen', 'Mamma Mia', 'Chiquitita', 'The Winner Takes It All', and many more, don't miss this exciting show!
Friday 28th, TRIBUTE TO ANDALUCIAN ROCK
Guitarist Juan Delola produces and directs this show, bringing the audience the best and most iconic hits from the 'Rock Andaluz' movement. An emotional journey through time to the Andalucia of the seventies, where this historic musical and cultural movement was born. Triana, Alameda, Medina Azahara or Lole y Manuel, are some of the groups and artists featured.
Saturday 29th – XXI REGGAE NIGHT
After 20 editions enjoying the best Jamaican and African sounds on the beach, once again we can look forward to Reggae Night.
This year we start with the African rhythms of the group of brothers from Senegal, AFRIJAMS, followed by the band WISEHOUSE CREW, who will accompany Jamaican singers DON SPIDER and LEROY ONESTONE, filling the Estepona night with Jamaican rhythms and great reggae sounds.