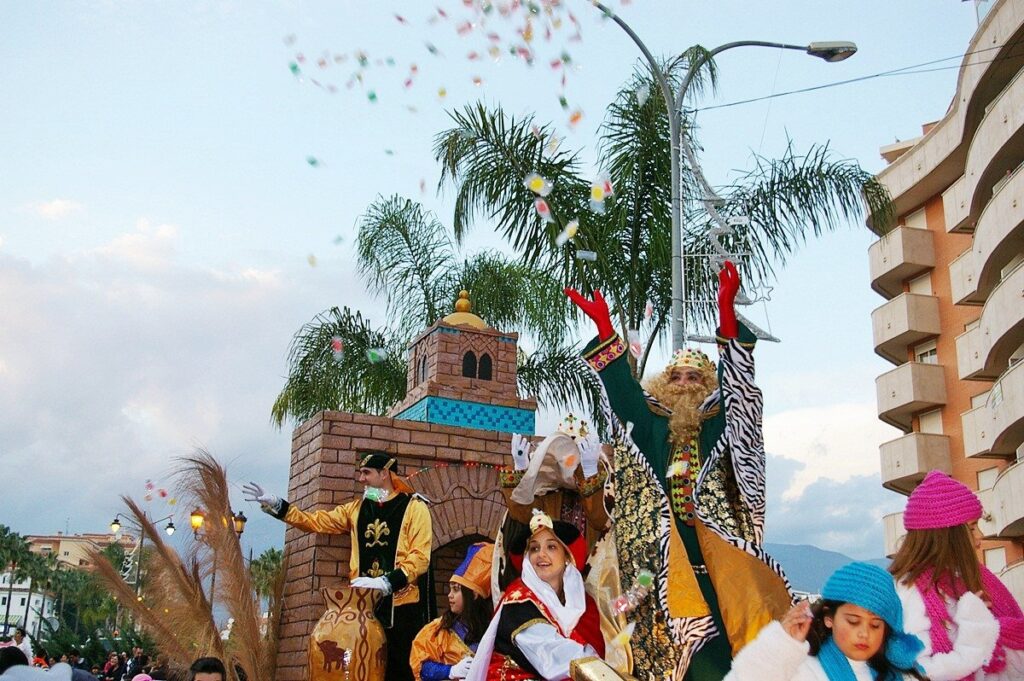 The finale to the Christmas festivities is Three Kings or Los Reyes Magos on the 6th of January.
Three Kings is traditionally when the Spanish give and receive their presents, although some have also started to give gifts on Christmas Eve/Day in line with the rest of Europe.
The highlight of this festival is the Cabalgata de Los Reyes, or the Three Kings Cavalcade, on the evening of the 5th January. This can only be described as a mobile riot and takes place in every city, town or village throughout Spain.
The Manilva cavalcade starts in Castillo at around 4 pm, before transferring to Sabinillas, at about 5 pm (timings are always approximate!) and finally wends its way up to Manilva at about 6.30 pm.
The cavalcade normally consists of three floats, each of which carries one of the 'Kings' and his entourage, there are also various performers, musicians, etc. As the procession wends its way through the streets the Kings and company hurl some two tonnes of sweets into the attendant crowd of children and adults, as you can imagine it's everyone for themselves and you will see most of the children coming away with bags full of 'caramelos'.
One thing to remember is to watch out for the parking restrictions posted on the lamp posts on the procession route. You will be towed away if you ignore them.