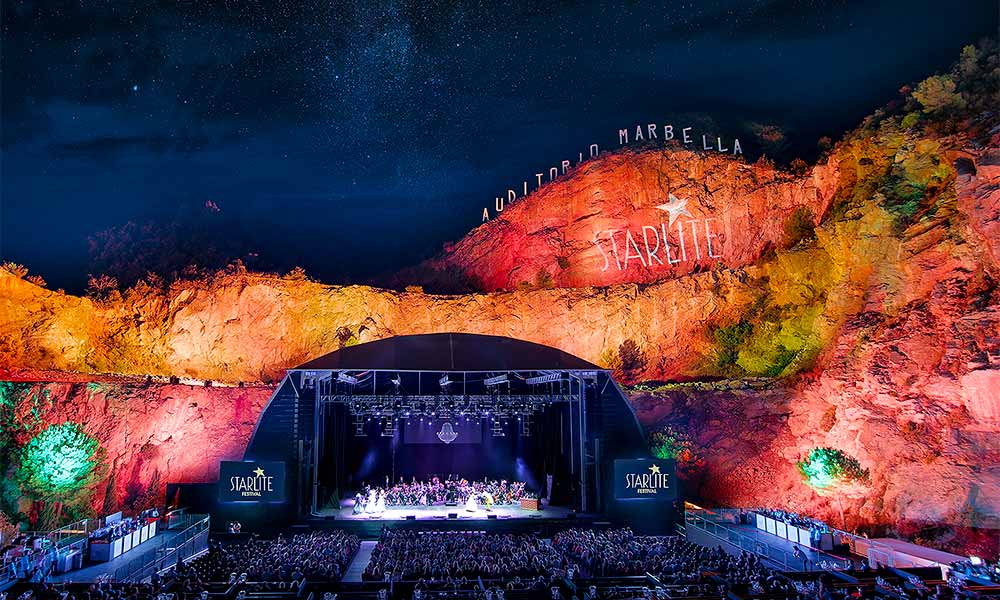 Starlite Catalana Occidente promotes itself as the best boutique festival in the World, and after eleven editions, it is the longest-lasting festival with more than 60 days of concerts.
Music, culture and gastronomy coexist in a single space. A great experience for those who want to enjoy close and intimate concerts in an incomparable setting. Its programming includes something for all audiences, ages and musical tastes.
In previous editions artists such as Enrique Iglesias, Elton John, Christina Aguilera, Lenny Kravitz, Diana Ross, Lionel Richie, Andrea Bocelli, Maluma, Ricky Martin, Tom Jones, Pet Shop Boys, Alejandro Sanz, Eros Ramazzotti, Luis Fonsi, Plácido Domingo, Anastacia, Jessie J, Nicky Jam, Luis Miguel, Sting, Maná and Hardwell have played their music at Starlite Catalana Occidente offering unforgettable evenings.
Starlite Catalana Occidente is not just music. The experience begins before the concert with its gastronomic offerings in a summer terrace environment and continues after the show with DJ sets to enjoy in this unique environment.
Programme of concerts for 2023
June
24th India Martinez
July
5th Sebastian Yatra
6th Lionel Richie
8th Gipsy Kings
12th Anastacia
18th Ludovico Einaudi
21st Rod Stewart
24th David Bisbal
27th Norah Jones
29th Andres Calamaro
31st Carlos Rivera
August
4th Farruquito, Israel Fernández & Diego del Morao
7th Zaz
9th Sara Baras
15th Taburete
17th Antonio José
19th Vicente Amigo
25th Lola Indigo
30th David Bisbal
Tickets are available at the STARLITE FESTIVAL website
History of Starlite
In 1983, prince Alfonso von Hohenlohe, singer Julio Iglesias and tenor Plácido Domingo organized a musical event with a recital starred by the tenor in the Nagüeles quarry of Marbella, using the space as a natural auditorium for its excellent acoustic qualities and stunning natural environment. That would be the historical precedent and precursor of the Starlite Festival, that finally took shape thirty years later, in 2012.
This first edition attracted 40,000 concert goers for a programme of artists including: George Benson, Roger Hodgson, Armando Manzanero, Tony Bennett, Christopher Cross, Hugh Laurie, Paul Anka, Miguel Bosé, Rosario Flores and Lolita Flores with Antonio Carmona, Simple Minds, Raphael, Julio Iglesias, and Estopa.
Starlite Gala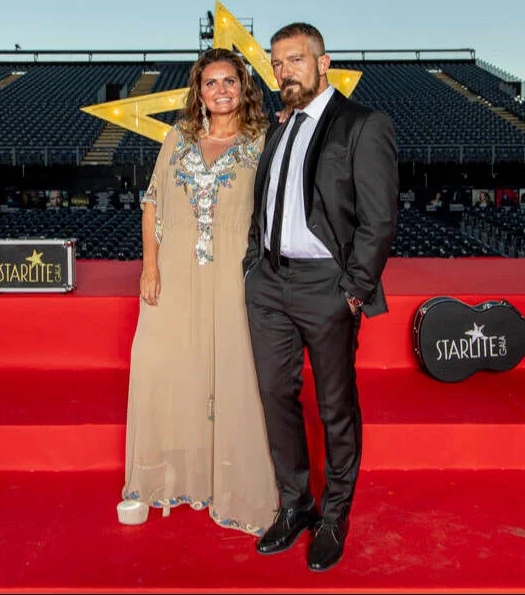 In addition, the Starlite Gala takes place every year. Hand in hand with its hosts, Antonio Banderas and Sandra García-SanJuán, it has become the charity event par excellence, raising money for the Starlite Foundation, an international charity platform which aims to improve the education, health and living conditions of families and children in need. It supports several organizations and causes led by personalities whose determination, dedication and personal involvement are an inspiration for many of us.
They use their fame, influence and power over the media to actively help, raising their voices for those in need who are not heard. These stars are a light that guides many of us to follow their example to change thousands of lives and make this world a better place.
The Starlite Gala began in 2010 with the aim of raising funds for various projects and foundation.
From its first edition, the Starlite Gala has been supported by recognized national and international personalities. It has also awarded the philanthropic causes of personalities such us Carlos Slim, Valeria Mazza, Enrique Ponce, Mia Farrow, Daryl Hannah, Laura Pausini, Eugenia Martínez de Irujo, Cayetano Rivera, Deepak Chopra, Alejandro Sanz y Miguel Bosé among others.