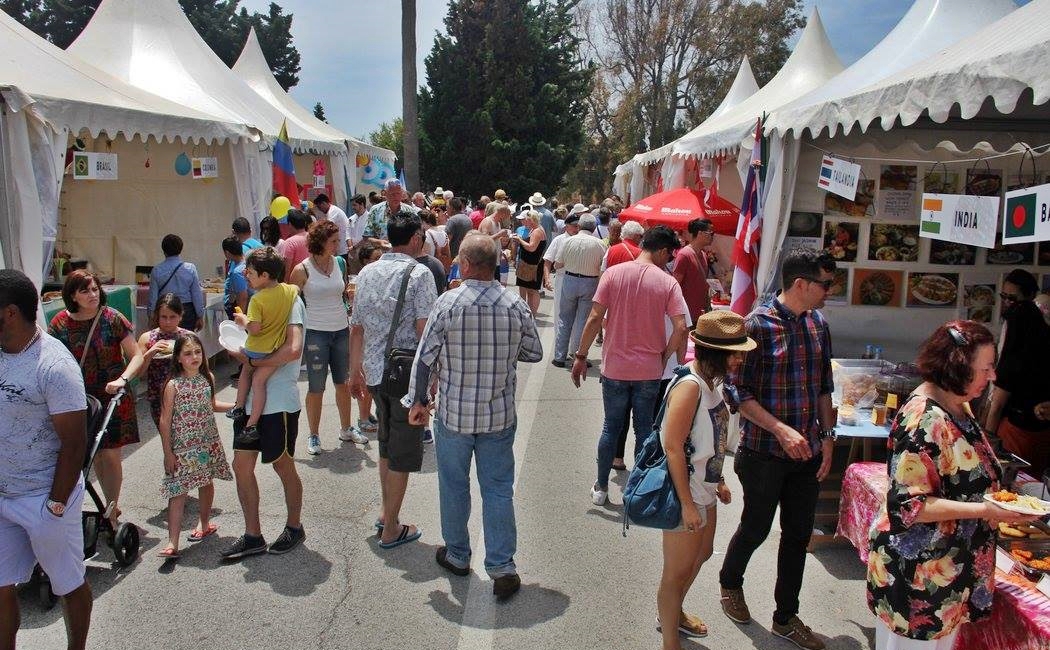 This year the Manilva XV International Festival and Family Day will be held on Saturday 13th and Sunday 14th May.
The event sees some 24 nationalities showing off their traditions, gastronomy and culture, at the Castle in Castillo de la Duquesa.
The weekend kicks off on Friday, with a parade by all the nations participating, which will set off at 6 pm from the statue in Plaza del Cali in Sabinillas, through Duquesa Port and to the Castle.
The international stands open around 12.30 pm on the Saturday and the Sunday, and there is an extensive programme of entertainment from 1 pm until late on both days.
The festival also features an artisan market, and in the adjoining Parque del Huerto the International Family Day has loads of fun, entertainment and activities for the youngsters.
Don't miss this great event.
Full Programme
Saturday, 13th May
1 pm – Love to Sing Choir.
2 pm – Inauguration by the Mayor and Councillor for Foreign Residents, presentation of plaques as a thank you to the participants.
2.30 pm – Flamenco performance by Ana Guerrero and Antonio Trujillo and their students. (Spain)
3 pm – Victoria Yapur (Ukraine).
3.30 pm РSinger Manuel Mu̱oz, music of the 60s, Rancheras, Pop, etc. (Colombia).
5 pm – Traditional Venezuelan music and Merengue Mix with Ada.
5.30 pm – Ernesto Soriano Guzmán "La Perla Negra" (Dominican Republic).
5.45 pm – Republic of Kalmykia.
6 pm – Salay Tukuyp (Bolivia).
6.30 pm – Parade of traditional Romanian costume.
7 pm – Emilia Rock & Roll (Latvia).
7.30 pm – Music by Ernesto Sánchez (Argentina).
8 pm – Traditional dance of Isla Saka (Paraguay).
8.20 pm – Viva el bravo (Paraguay).
8.40 pm – Brasil: Capoeira and Mulatas display.
9.30 pm – The group "La Mala Hora" perform hits from the 80s until present day.
11 pm – Close.
Sunday, 14th May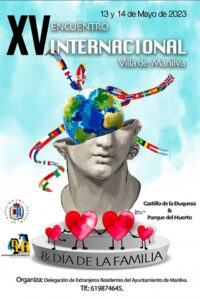 1 pm – Neil Diamond tribute with Neily Diamond (United States).
1.30 pm – Gary Fearon (Great Britain).
2 pm – Students from the Rubén Cárdenas school of song.
3 pm – Juan Camilo Valencia, popular music of Colombia.
3.45 pm – Belgian songs and 90% saxophone.
4.30 pm – Samay spiritual music (Ecuador).
5 pm – Marcelo Filippa Argentinean Dancing.
5.15 pm – Pájaro Campana traditional dance of Paraguay.
5.30 pm – Manilva Municipal School of Dance.
6.30 pm – Victoria Yapur (Ukraine).
7 pm – The "Tezaurul Carpatilor" group perform traditional Romanian dance.
7.30 pm – Chiperita Paraguay.
8 pm – The "Kassia Rock Band" performs pop rock hits of the 80s and 90s.
9.30 pm – Close.