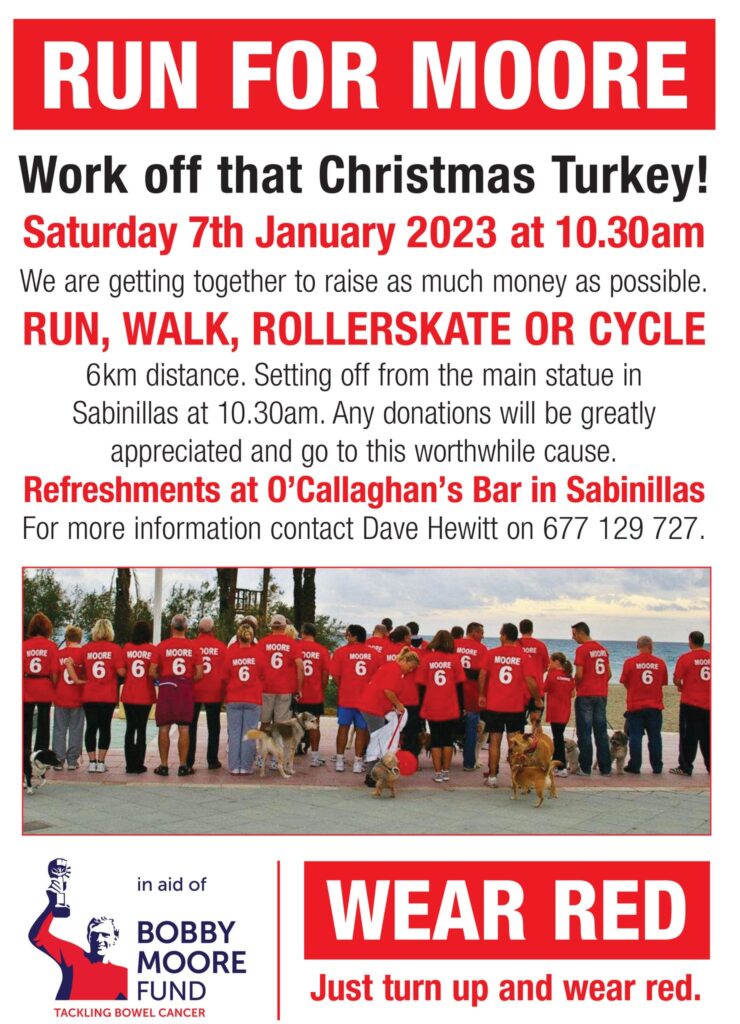 In what has become a traditional part of the Christmas festivities in Manilva, the annual Run for Moore charity run will be held on Saturday, 7th January, 2023.
Now in its 16th year, the Run for Moore is one of a number of events throughout the year, organised by local resident David Hewitt, in aid of the Bobby Moore Fund, Tackling Bowel Cancer.
Over the years David has raised over 25,000 euros for this worthy cause, established in memory of the West Ham and England footballer Bobby Moore, who died of bowel cancer in 1993, aged just 51 year's.
The  Fund was set up shortly after his death by Bobby's widow Stephanie Moore OBE, as a restricted fund of Cancer Research UK to raise money for pioneering bowel cancer research. Since Bobby's death, thanks to the generosity of its supporters they have raised more than £29m and seen mortality rates for bowel cancer fall by more than 30%. However, with 46 people losing their life to the disease every day in the UK, there is still a long way to go.
So why not dust off those festive cobwebs and join in the 6km Run for Moore, setting off from the statue on the Paseo Maritimo in Sabinillas at 10.30 am on Saturday, 7th December. If you're not a runner don't worry, you can walk, cycle, rollerskate, whatever you like, and dogs are more than welcome, as are any and all donations to this worthy cause.
There will be refreshments at O'Callaghans Bar in Sabinillas afterwards.
For more information contact David Hewitt on 677 129 727.