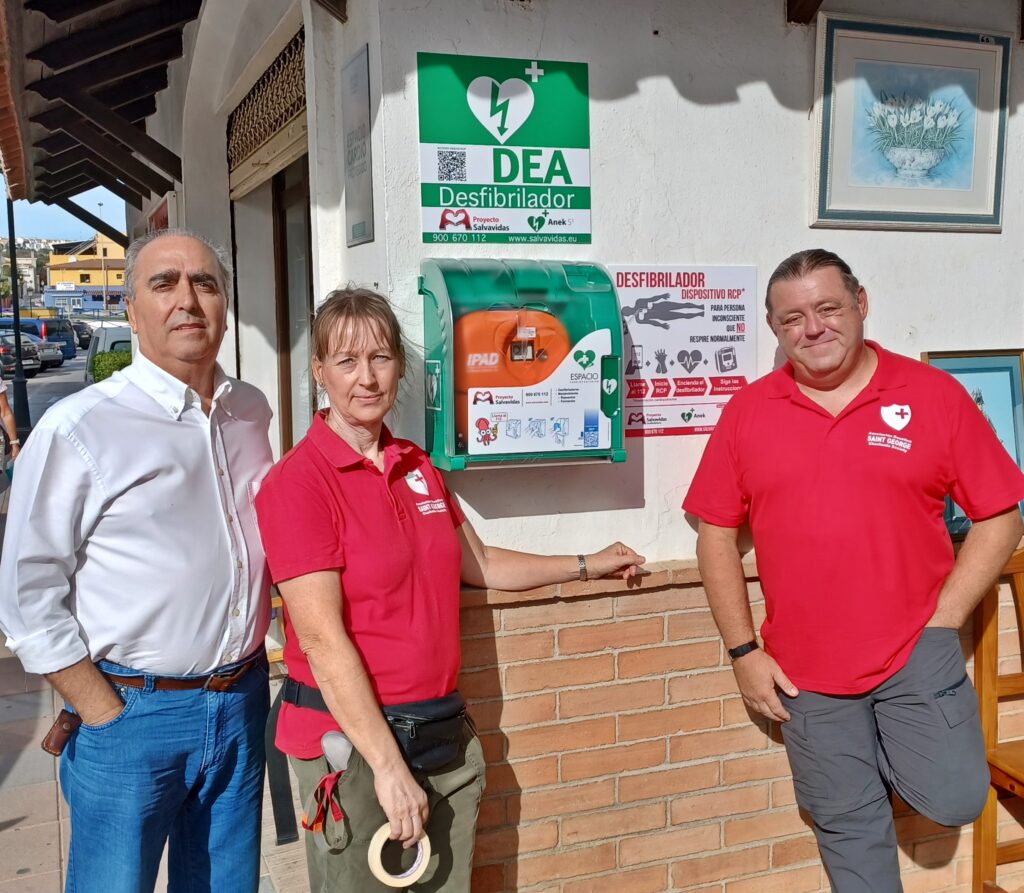 Every year, more than 30,000 people die in Spain due to cardiac arrest. Early, immediate care is crucial to increase the survival rate from these events.
Out-of-hospital cardiac arrest is a critical condition with poor outcomes, but the survival rate is improved greatly in those who undergo defibrillation.
To help all of us, every member of the public should know how to recognise a defibrillator and feel able to use it if necessary and if there is no medical professional in the immediate vicinity.
Defibrillators are devices that send an electric pulse or shock to the heart to restore a normal heartbeat. They are used to prevent or correct an arrhythmia, an uneven heartbeat that is too slow or too fast. If the heart suddenly stops, defibrillators can also help it beat again. Different types of defibrillators work in different ways. Automated external defibrillators (AEDs), which are now found in many public spaces, are used to save the lives of people experiencing cardiac arrest. Even untrained bystanders can use these devices in an emergency.
There have been a number of studies in recent years as to the most effective way to locate AEDs with an average of 250 metres between devices in densely populated areas with their locations clearly published. Remember that the time it takes to find this type of treatment is vital for survival when people have heart problems.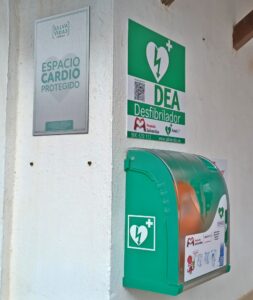 The Saint George Charity is rolling out a project to address this situation in the municipality of Manilva, our aim is to initially place 15 defibrillators at key points throughout the area and to run a number of courses to train as many people as possible in their use. To this end we have already installed two units, one outside the Saint George Charity shop in Plaza los Naranjos, and the other outside Beccy's Cafe. The Charity has a further seven on order: two for Duquesa Port, one for Monte Duquesa, and a further four for Sabinillas.
The Saint George Charity has teamed up with the Spanish company Salvavidas who provide and maintain 24-hour external defibrillators on a monthly rental basis, making it economically feasible to achieve the goal of 15 cardio points throughout the area, with clear information on their locations.
The project would require an annual budget of 9 to 10 thousand euros, which will be raised through donations and sponsorship of individual machines.
We have already received funding from Beccy's, Bernies Bar, Kelly's Bar, The Rose & Thistle, and the Gibraltar Robus Group Ardonagh Community Trust and are in discussion with a number of other businesses. If you are interested in joining this initiative, then please contact Dean Shelton by Whatsapp on 656 52 32 60.